Aibhlinn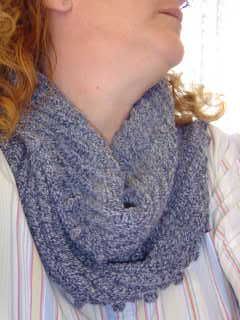 Oh baby- I love this one... and I may be the only one who does... at least in my family. My girlies just think it's very "odd." But check it out, I've ventured beyond scarves, barely... this is just a big, tubular scarf, but when I saw it in Knitty I had to have it.
Now we're really out of my easy-project-comfort-zone.... we're talking swirling ribs AND bobbles., AND knitting on circulars. I started and restarted this project about four times. Still didn't have the right number of stitches cast on and one of the ribs is smaller than the rest, but just look at it.... all gathered around my neck you can't even tell, can you? Not to mention the other hundreds of mistakes.... but hey, no one should be looking that close anyway!
Patttern: Aibhlinn, Knitty.com/Fall04
Yarn: Knit One Crochet Too's "2nd Time Cotton" in Beluga Blue (recycled cotton, very pretty, perfect for this project, splits like crazy!)
I still love this - and wear it like the girl in Knitty - with my jean jacket... I don't care what my daughters say. But, baby, it better be really cold outside (which it rarely is where I live), 'cause it keeps you warm!