3rd Eye Chullo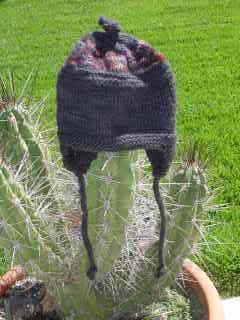 So I say, "Hubby, want me to make ya something?"
Now I'm really a glutton for punishment.... my first try with double-pointed needles! Cast on two stitches to each of four needles.... yah, right... Kaity had to get me started on this one. After that, it actually was really easy. Hey - I can knit, AND follow a pattern!
Pattern: Knit Wit 30 Easy and Hip Projects - 3rd Eye Chullo
yarn: Manos de Uraguay
He even wears it, sometimes on a cold night after a mountain bike ride, and I think it's been hiking in the Sierras. The hubby's big on keeping his head warm...
Can I just say.... this was the first yarn I FELL IN LOVE WITH! It is sooooo beautiful. Worth every penny, soooooo pretty and soft. They have the most amazing colorways, mmmmm, pretty!