My First Sweater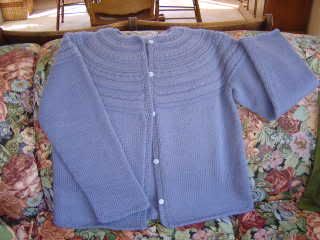 I love this sweater - hey I just love sweaters.... next to purses, shoes, and jackets.... yeah, I probably love sweaters the most.
Here's the obligatory take-it-yourself in the bathroom shot...
It's a little big (which is WAY better than too small), and the arms are a little floppy, but I will wear it like crazy. Of course, I started it in the Winter and didn't finish it until it was too hot to wear a wool sweater, but this year... I can't wait. It's the perfect blue to go with my jeans (which is all I ever wear anyway).
Pattern: Ann Budd's "Knitter's Handy Book of Sweater Patterns"
Yarn: Lamb's Pride worsted, Winter Blue
May I just say... this book is genius. I borrowed it from my Mom. She's lucky she got it back. You just pick the sweater you like (the combinations are endless), knit up a swatch in the yarn you choose, and she does all the math for you!!! Genius I tell you.